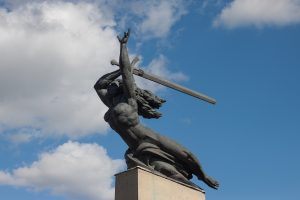 The International Legal Communication Research Center (ILCRC) was established February 1, 2019 by virtue of a resolution issued by the Council of the Faculty of Applied Linguistics of the University of Warsaw. The ILCRC bundles manifold law & language – related interdisciplinary activities.
The mission of the ILCRC is to connect Law and Communication over all scientific, geographical, political and social divisions.
The ILCRC consists of ILCRC Members and is kindly supported by the ILCRC Honorary Board. The Members of the ILCRC Honorary Board are notable scholars with various expertise who are prominent in academic circles and thus give a powerful endorsement to the ILCRC mission. The ILCRC is most grateful to these distinguished individuals for their commitment to the Center's assignment and work. The ILCRC enjoys the friendly support of the ILCRC External Collaborators who are ready to participate in ILCR activities and provide advice and assistance in remote parts of Europe and the world.
The ILCRC collaborates with the MEDEA Association the main goal of which is the dissemination of knowledge. The MEDEA successfully promotes all kinds of international and interdisciplinary scientific activities, including meetings of experts, debates, projects, conferences, publications. 
The activities of the ILCRC are:
Projects: Our Members apply for external funding of their research at organizations (NCN, DPWS, EU, business). 
Conferences: The ILCRC organizes international conferences and workshops and collaborates in their organisation. 
Cooperation: Members of the ILCRC establish long-term cooperations with European and international universities to exchange students and staff. 
Public Colloquia: Each semester, the ILCRC organizes a public colloquium. 
Dissemination of knowledge: Our Members are actively involved in the popularization of knowledge: they publish on the scientific and extra-scientific level, support their members who are in the qualification phase and provide regular mentoring for students.